Chardham Yatra - Panch Prayag
From day one to almost day 16, in fact every day of our Char Dham Yatra, we have driven past roadways with various rivers flowing side-by-side the road, in many cases the road may be so high (going up the hill) with the rivers way down, in some cases 300 ft, 400 ft or even 500 ft below. These rivers are all our sacred rivers, Yamuna, Ganga, Bhagirathi, Mandakini, Alaknanda and so on. Many times, many of us wonder what the relationship between these rivers are, why these rivers are so named for the various reaches that they flow through etc. Of course, Vedanta teaches us that all our problems are due to our wanting to associate everything with their Nama-Rupa (name and form) and so long as we do not worry about all these, everything is fine! We know this, yet we want to identify everything with Nama-Rupa. When rivers merge in the ocean, their separate names and forms vanish (Mundaka Upanishad). Still, we need to understand these names of these rivers (prior to their merging with others or with the ocean!), how they are related to River Ganges etc., so here comes the write-up of these various rivers, where and how they merge with each other etc.!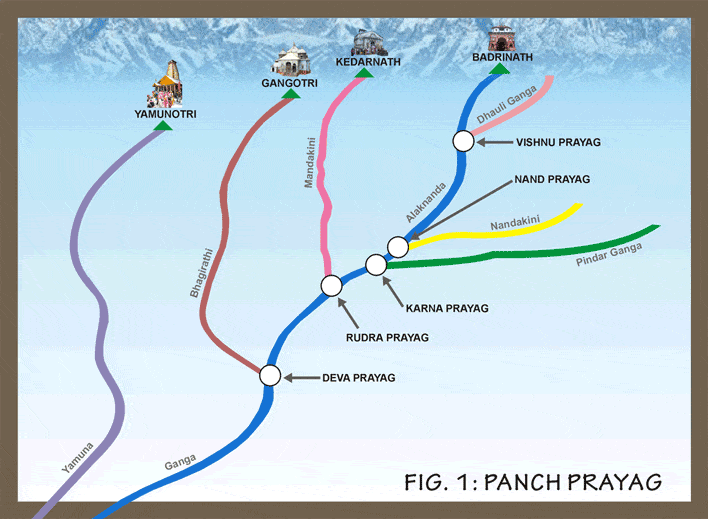 Figure 1 shows the Panch Prayag (the 'five' confluences of these rivers). River Yamuna (in purple color) on the left most side on this Figure originates at Yamunotri and flows down and joins Ganges in Allahabad (along with River Saraswathi underneath, forms the 'triveni' sangam). River Bhagirathi flows from Gangotri, (technically from Gaumukh), its origin, and where Bhagirath did penance to bring Ganges down from Heaven. So, Ganges is called Bhagirathi from Gangotri upto the place known as Deva Prayag. River Mandakini flows from Kedarnath ranges. In fact, in Siva Panchakshara Stotram, we have 'mandakini salila chandana charchithaaya' (the One who wears chandana that is made into a paste using the waters of Mandakini river). River Alaknanda flows from Badrinath hills.
Dhaula Ganga which flows from Dhaulagiri Mountains joins with Alaknanda; their confluence occurs at 'Vishnu Prayag', Dhaula Ganga merges with Alaknanda and after merger Dhaula Ganga's identity is lost and both rivers flow together by the name 'Alaknanda'.
River Nandakini, originating in Nanda Devi peaks, joins, and merges, with Alaknanda at Nand Prayag (after which Nandakini loses its name and form and becomes part of Alaknanda).
Pindar Ganga originating from Pindar ranges joins, and merges, with Alaknanda at Karna Prayag (after which Pindar Ganga loses its name and form and becomes part of Alaknanda).
Mandakini joins, and merges, with Alaknanda at Rudraprayag (after which Mandakini loses its name and form and becomes part of Alaknanda).
Bhagirathi joins, and merges, with Alaknanda at Deva Prayag (after which Alaknanda, and Bhagirathi, lose their names and forms and is given the 'new name' Ganges for the merged river flowing downstream past Deva Prayag). We can also say that after merger of these two rivers, Bhagirathi, which is also Ganga, becomes Ganga. In that sense, no new name is coined but that the name of one of the two rivers that merged is what is retained after the confluence site.
Thus, all rivers from Gangotri, Kedarnath, Badrinath, Dhaula Giri, Nanda Devi Peaks and Pindar range, join together at various 'prayags' and finally become River Ganga.
Yamuna flows down from Yamunotri.
Ganga and Yamuna meet at Allahabad (with the 'mystical Saraswathi' underneath) to form "triveni sangam" and then the merged rivers flow down to the ocean.
Once they reach the ocean, all rivers lose their identity (Mundaka Upanishad states that one, who knows, is delivered from name and form when one reaches the Supreme just as rivers cast off their nama-rupa when they merge with the ocean).
All these rivers, all these confluences of these rivers are sacred according to our belief system. To be able to take bath at the Ganga River (and/or "prokshan" at the confluences of these rivers) is considered a great blessing!
To see all these various rivers, their confluences and the downstream flow as a single river at all these Panch Prayags (five confluences) at Vishnuprayag, Nandprayag, Karnaprayag, Rudraprayag and Devaprayag was a great sight and an excellent feeling. These 15 days have been an education for us in geography, the origin and the flow of our sacred rivers.